« An official site and the concept site of SCEJ and PlayStation 3 are opened. | Main | Sales marvelous animated cartoon 'Melancholy of Suzumiya Haruhi ' DVD of Kakugawa entertainment (9477) are recorded. »
[[This site was moved.
New Garbagenews.com » CLICK HERE !!]]
September 12, 2006
It experiments with NTT urban development and the sweet potato the city cooling making.
Contributor fuwarin : September 12, 2006 09:12 AM | Categories [Society ]
It was announced to do the introduction of water Tagaya cultivation system of the sweet potato and the effect measurement experiment in the rooftop in the office building so that NTT urban development etc. might improve "Heat island phenomenon" where the temperature in the center of a city went up on August 29.

The sweet potato can control the rise in heat of peripheral air because the leaf expands greatly, a lot of evaporation heat (heat necessary for water's changing into steam) is generated, and it absorbs heat. Moreover, it is thought that the effect of suppressing the temperature rise because growth is also early is large.
It was confirmed that as a result of a current measurement, there were about 1.5 times the result compared with the lawn that had been used for the heat island phenomenon improvement so far. Moreover, it is said that it was possible to suppress it to 30 degrees in the place where the sweet potato was planted when the temperature goes up up to 55 degrees in the no processing division of the rooftop.
Five points of the feature and the advantage of the sweet potato cultivation have been enumerated in the report.
・Excellent generation(25 area times greening)
・Cultivation is easy. (It is strong in a sickness and an environmental change. )
・Excellent amount of transpiring(The leaf grows in abundance easily. )
・Excellent effect of Saeginets(overlapping of height and leaf)
・Effect of healing(harvest of sweet potato etc.)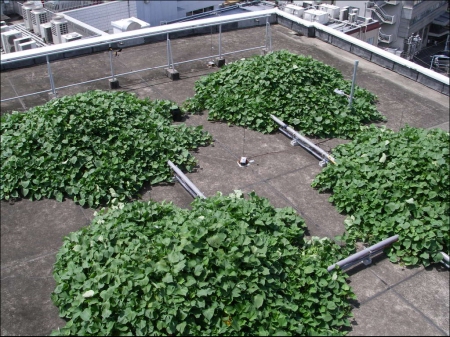 Experiment device panorama
It is assumed as the start the recommendation of You Aoki that will be called sweet potato (sweet potato) teacher of cultivation as the famine measures to Shuu general Tokugawa at time that the sweet potato grandly spread to Japan in Edo period. At that time, will the sweet potato that saves a lot of lives of the person this time save the city from the heat island phenomenon?I want to look forward to a formal research result announcement of being done after November.

5 latest articles on the same category